The shower panel is a clever and quick way to modernise a bathroom. As well as being waterproof and hygienic, it is also practical and stylish. It ticks all the boxes for affordability too. If the installation process is what is holding you back, you will be pleased to know that it is not that difficult. In fact, anyone with DIY skills can complete the job to a professional standard.
While you should never attempt to install the actual shower yourself – unless you are a plumber – fitting a panel could not be more clear-cut. In this easy-to-follow guide, we will walk you through the basics. By following these simple steps, you will achieve a watertight finish and avoid the most common pitfalls.
It is important to remember that walls should be clean and dry before you attempt to install a panel in your shower. Pay attention to the condition of your walls. Are there any loose tiles, for example? Repair plaster or remove damaged tiles before you begin. And don't forget to seal recently applied plaster. This will ensure you achieve the best possible finish.
Measuring and preparing your shower wall
Before you can measure where holes should be cut to accommodate pipework and fittings, you will need to carry out a few simple tasks. Remove valves from faucets, as well as the shower head and inlet pipe cover. Check that only the pipes are visible. If the pipe leading to your shower head is curved or at an angle, you may want to remove that too. It will make taking accurate measurements easier.
When taking measurements, start with the area of the wall where the inlet pipes and shower fittings are. Don't worry, it's not that difficult. Measure from the fittings to the edge of the wall on all sides. This way, you will know how far down a panel the fixture is and where it is across the width. Take a careful note of both vertical and horizontal calculations and, to be on the safe side, you may want to do this twice. Try measuring from the edge / sides of the wall to the fittings and ensure the figures match. Once you are certain your measurements are correct, mark the measurements on the front of a shower panel. Use a pencil so you can easily remove the markings if you need to make any corrections.
Double check your markings. While shower panels are very affordable, you don't want to waste any by making an avoidable mistake. It is worth bearing in mind that your panel should be trimmed to the size of the wall before you cut any holes for inlet pipes and fittings. Some people find the job easier if they draft an actual-size sketch on paper or cardboard first.
We recommend you use a fine tooth saw and DIY knife for cutting. This will ensure clean, smooth cuts. Always cut from the decorative side of the panel. Take your time. You don't want to make a mistake because you are rushing.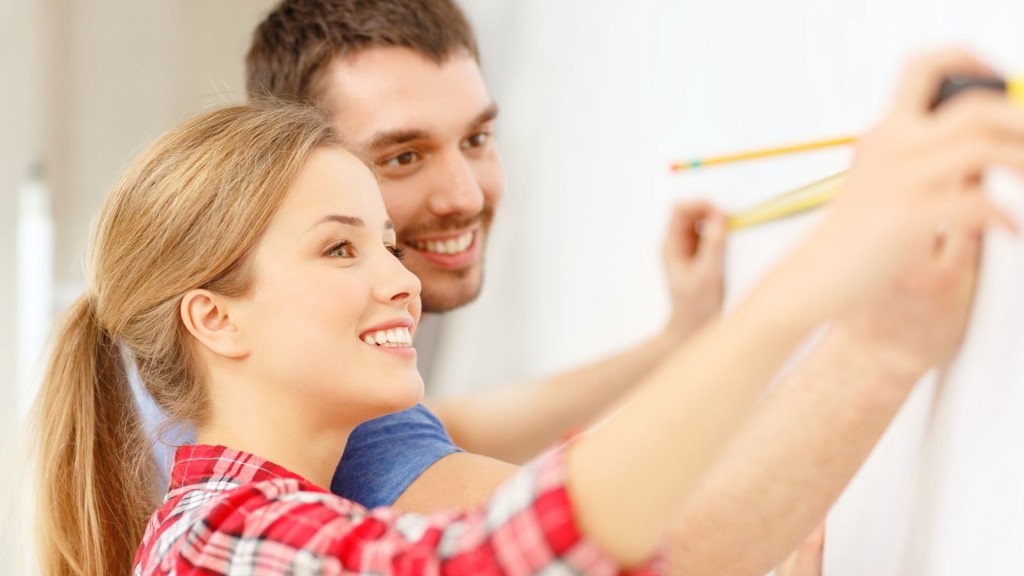 Fitting the shower panel
Always fit shower panels in accordance with manufacturer's instructions. You will find some useful information on where to start the installation process and how to apply adhesive here. When you get to the wall with the fixtures and fittings, follow this next step so that the shower panel is correctly installed.
Marry up holes in the panel with the shower head. Once you have them correctly aligned allow the pipes to pass through the holes and press the panel firmly to the wall. Follow manufacturer guidelines and ensure the panel is correctly aligned not just with fittings but with edges of the wall. When you have finished, use silicone to seal all the edges as well as the seams. Leave the adhesive to dry.
You can now reattach the shower head and other fittings. If you are not sure about any of the steps in this guide, refer to the manufacturer's instructions.
How much will this project cost?
A shower panel is a cost-effective way to give your bathroom a fresh, new look. As well as benefitting from a stunning interior, you will save money too. Shower panels are generally much cheaper than hard-to-install tiles. Depending on where you buy your panels and the type chosen, you can save as much as 20 per cent. And if you follow our instructions and install the wetwall yourself, there will be no labour costs.
The cost of each panel will depend on its size and composition. For example, composite shower panels, which are popular because they look like traditional ceramic tiles, are generally cheaper than some other types of décor with more luxurious finishes. They are also available in both vertical and horizontal design choices. Laminate, on the other hand, is generally more expensive than acrylic. Which one you choose will come down to personal taste, your budget and the individual benefits of your preferred choice.
Ready to fit a shower panel?
Now that you know it doesn't have to be difficult to install a shower panel, you can shop with confidence. Often, not knowing how to carry out an installation is what puts people off investing in a good shower wall solution. Having the right knowledge and tools is key to completing an installation to a high standard. The important thing to remember is to check and double check measurements before cutting a panel. This will minimise the chances of a blunder.
A quality shower panel will protect your wall from moisture as well as give your bathroom a fashionable look. Whether you want to go contemporary, or simply update or refurbish a shower, the waterproof panel will ensure you achieve your aim. Choosing the right finish for your space is exciting, because there are simply so many choices it is often a real eye-opener. Inspiration for the modern shower panel is often drawn from trending interior design themes so, even if you can't quite stretch to materials like copper, you can achieve the exact same look with low cost, hygienic and stunning shower panels.