Fancy giving your bathroom or shower a makeover but not sure how much a wetwall will cost? This thoroughly practical and sleek way to transform a moisture intense environment doesn't have to set you back a fortune. Options are available to suit all budgets. In fact, most waterproof bathroom cladding is more cost-effective than ceramic tiles and glass.
In this guide, you will find inspirational and economical ideas for your home. We have put together a great collection of stunning yet inexpensive décor tips to help you achieve the look you want without a big price tag. All the solutions help you reduce costs by minimising labour and incorporating low maintenance materials. For example, we will walk you through the likely costs to using panels made from acrylic, laminate and composite materials.
Most people looking for a watertight cladding solution desire a finish that not only stands out but is easy to maintain. Choosing products that promote hygiene and durability is important, especially if you want your project to stand the test of time. That is why all the inspirational ideas here have been hand-picked to offer outstanding value and practicality.
Laminate wet wall costs
Laminate wetwall panels are a great way to give your bathroom a stylish new look. This type of waterproof cladding is manufactured from MDF and is finished with a high-pressure laminate coating. Extremely versatile, you can use this material to lift the look of virtually any space. If you are strapped for cash, you can create a feature by using a panel behind a sink or on just one wall.
Effortless to install, all laminate bathroom panels can be bonded to walls. You can even install them over existing wall coverings, including tiles. Elsewhere on this website, you will find detailed instructions on how to achieve this. What makes this wetwall solution particularly attractive is the range of finishes. Generally, a good supplier will offer a choice of styles – everything from classic lines to boutique looks.
Many homeowners choose laminate because it offers a great alternative to more expensive products that look exactly the same. It is revered for its ability to replicate expensive looks, delivering a finish that looks truly authentic. Natural stone finishes are extremely popular. However, other choices include solid gloss colours and ultra-modern patterns.
You can expect to find good-sized panels from just over £70. Choose a supplier that will deliver your wetwall. It will save you the trouble of having to transport materials yourself.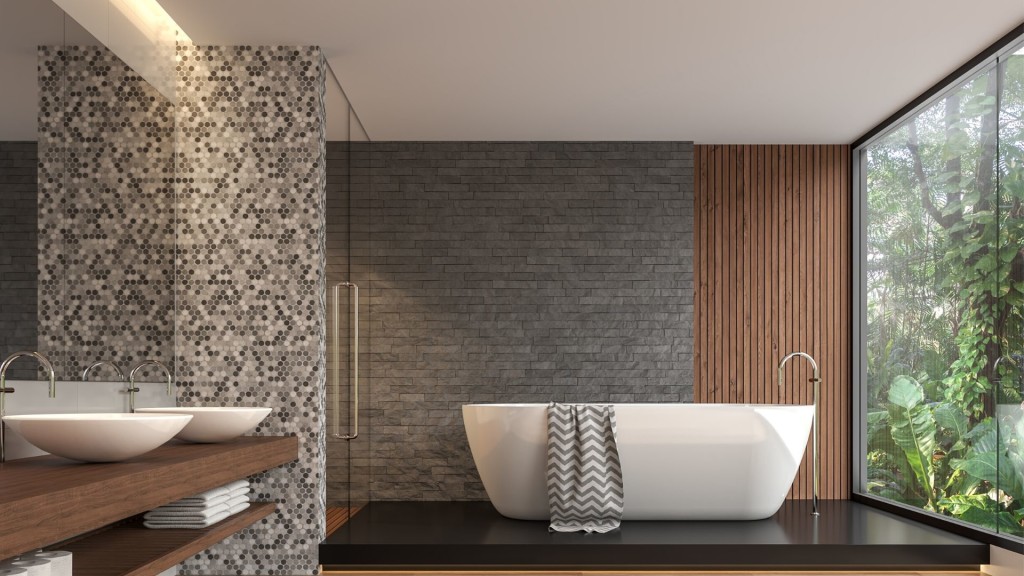 Acrylic wetwall costs
Acrylic wetwall panels are a remarkably good buy for showers. As well as being totally waterproof, they are much easier to maintain than tiles. Big benefits of investing in this material is that, unlike traditional alternatives, it will not crack and does not require grouting. This helps you to retain a finish for many years – without the worry of discolouration.
Most established bathroom panel suppliers stock this type of wall panel in both solid colour and metallic finishes. You can achieve a bold, unique look with minimum effort. We recommend solid colour panels as an alternative to glass. Delivering a high-gloss finish, they really add a touch of glamour to any home.
Metallic options should include sterling silver and pearl options. Expect to pay around £200 for a panel size of I 2440mm x 600mm. If you want a vibrant colour scheme, your options are almost limitless. Consider flamingo, mocha, jewel or sunset orange. Other popular colours include bright yellow, black and a range of greens and blues. This type of wetwall is available in a range of panel sizes. They generally start from around £169.
Composite bathroom panel costs
The composite bathroom panel is the ideal choice if you want your project to look like tiles. Quick and easy to install compared to the real thing, you won't have to fiddle about with grouting yet achieve a tiled finish. This type of wetwall works in almost any environment and can even be used in utility rooms and kitchens.
Low cost and practical, a composite wetwall will cost from £88 – great value for a solution that requires very little effort to install. The most common 'tile' colours include white, black and brown. Benefits include no mould, good fire resistant, total waterproofing and low maintenance. Unlike tiles, this type of wetwall is also extremely lightweight, making it easy to handle and less of burden on your walls.
If you are looking for a bathroom solution that aids hygiene, this is it. It makes keeping a wet environment clean very simple.
What to look for when buying a wetwall
Before you splash the cash on wetwall materials, look for a supplier that will offer you products with a good manufacturer's guarantee. As a rule, we recommend a guarantee of 10 years. It is worth noting that most panels last much longer than that and can even be painted over if you get bored of the finish. Because bathrooms are one of the busiest rooms in a home, buy a product that will resist impact and meets British Standards.
Renovating a wet room with bathroom panels is not expensive. Projects are generally quicker to complete than tiling jobs. You can cover large areas in virtually no time with very little preparation required. A good point to remember is that a wetwall is not porous – something that can't be said about ceramics and porcelain. You won't have to regularly seal a bathroom panel, saving you not just cash but precious time.
While the cost of investing in a wet wall can vary, the benefits and options make this solution both affordable and hassle-free. Whatever your budget, you will find a panel that meets your requirement on the cost and visual appeal fronts. For bang up to the minute designer appeal, effortless maintenance and ease of installation, you can't go wrong.
For a great, long-lasting finish, we recommend you purchase cladding adhesive and matching trims. A specialist supplier will have everything you need to make your dream bathroom a reality. What's more, they will offer completely free advice – so you won't make any mistakes when you come to bonding your panels to walls.