Bathroom wall panels are popular because of their decorative finish. Let's face it, they make a statement in any moisture intense environment. That is why they are widely used in residential and commercial properties across the UK. They can transform even the most outdated spaces quickly. But are they waterproof?
If you are planning to refurbish your bathroom and can't be bothered with the hassle of installing tiles, you need to know this… Bathroom wall panels are one hundred per cent waterproof. Benefitting from a non-porous finish, they make light work of covering dull, neglected or simply old-fashioned surfaces.
Bonded to clean walls with adhesive and then sealed, water resistant panels use no grouting. This gives them a significant advantaged over tiles. They require no maintenance, other than cleaning. Even that is easy. You simply wipe them down and give them a light spray with anti-bac. Effortless.
The problem with tiles…
Apart from being fiddly to install, tiles are a real hassle to maintain. They can lose their glaze, crack, come loose from a wall and attract mould and mildew. But those drawbacks aren't the only issues posed by traditional tiles. The real hassle is the grouting. Unlike bathroom wall panels, tiles are hard work.
Some of the common issues caused by grouting include:
Discolouration – grout tends to 'grey', ruining the finish of a tiling project. This problem is often caused by mould or deposits of iron. Commonly, the discolouration is uneven too – making it more obvious

Crevices – tiny holes can allow water / moisture to seep between tiles

Crumbling – over time, crevices and moisture can cause poorly applied grouting to break down

Mould – this bathroom blight thrives in porous grouting and is a pain to remove
While grouting looks great when tiles are first fitted, they quickly lose their appeal. This is often because it is not sealed or applied incorrectly. A bathroom is, by nature, warm and full of moisture. Such an environment makes crevices the ideal breeding ground for not just mould but bacteria too.
Another problem with grouting is that it needs to be mixed properly and tightly packed into joints. If the consistency or packing is too light, it won't stand the test of time. The correct amount of force is needed to ensure grout forms sufficient bridging. Grout containing sand may look as though it has filled the gap, but appearances can be deceptive. Experts advise it may not adequately plug the gap between the surface of the tile and a wall. This offers poor protection because a surface-only application will impact the strength of the bond and the long-term integrity of your project.
Waterproof bathroom wall panels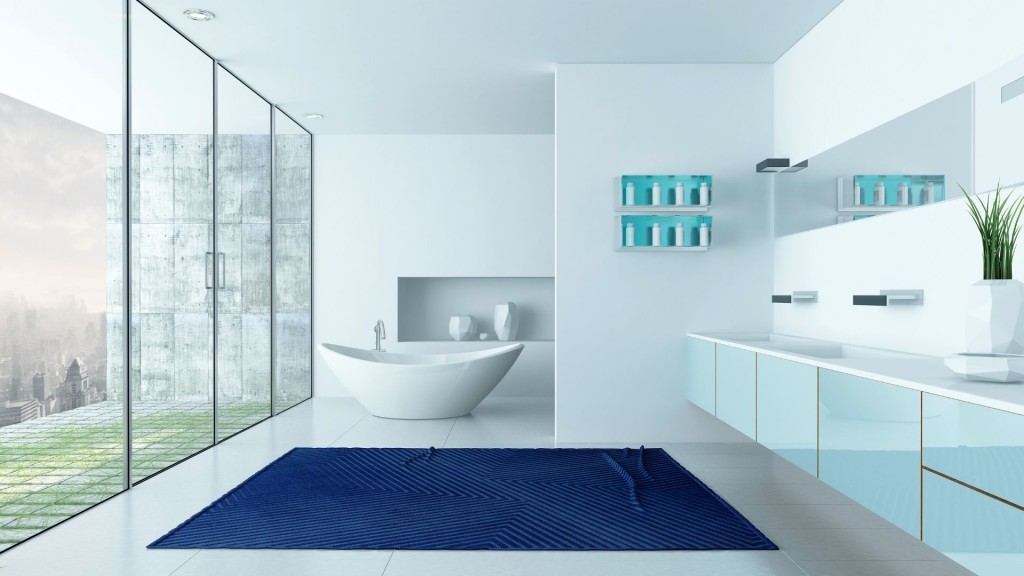 The following bathroom wall panels are completely waterproof:
Laminate - The most popular choice for bathrooms. Usually 11mm in thickness, this type of waterproof panel is available in a choice of sizes. It delivers the widest range of finishes – everything from modern swirls and high-gloss block colours to stone and Rossano sand. It is worth noting that laminate wall panels can be paired with fully co-ordinated vanity tops for a 360-degree designer finish.
If you are considering bathroom wall panels for a shower, Acrylic or Composite are savvy choices.
A benefit of investing in these thoroughly modern alternatives to traditional bathroom wall coverings is their contemporary look. Crisp, clean and hygienic, they are also easier to handle and install that natural stone, for example. And they can even be installed over tiles – so long as the surface is flat and free of any soap and grime. It's a one-man job and can be completed by a DIYer. One of the biggest benefits is that they offer seamless style that delivers effective waterproofing as well as a stunning, fashionable look.
Tiles, especially ceramic ones, often look like a throwback to the days of flared jeans. They can appear dated before they are installed. What's more, they are often heavy and may require professional installation, adding to the cost of a project. And, of course, common issues with grout can impact their ability to provide long-lasting protection for walls.
It is worth bearing in mind that wall panels will last for at least a decade and can be easily painted over if you ever fancy a change. So, they are versatile as well as aesthetically pleasing and completely waterproof. Their benefits make them a particularly cost-effective purchase.
Bathroom panel buying guide
High-quality laminate bathroom wall panels are incredibly robust. This is because of the high-tech manufacturing process. If you are shopping around for wall panels for your bathroom, ensure you purchase a panel of adequate thickness. 11mm is the most popular. Buy from a reputable brand and ensure your purchase includes a good manufacturer's guarantee.
Look for a panel sold with a 10-year warranty and avoid making purchases from individual sellers on global platforms. Marketplaces don't always make it clear who you are buying from. If you make a purchase based on low price, you could end up with an inferior product or bathroom wall panels that take weeks to arrive.
Ask about the composition of the panel, if it is not stated. Genuine laminate wall panels comprise an MR MDF core. The decorative finish should be achieved with high-pressure. And the laminate should always be waterproofed.
For a flawless finish, check that the seller also stocks trims and other accessories. You don't want to have to shop around for essential finishing touches. When buying online, choose a specialist. They won't just have everything you need to complete your project - they will be happy to provide free advice. This can be invaluable if you are undertaking a cladding job for the first time.
Achieving a beautiful, completely waterproof new look in your bathroom is easy with wall panels. Effortless to install, they keep moisture away from the structure of your property and deliver design features that are much more expensive to achieve with traditional materials. So, not only are bathroom panels completely waterproof, they are economical. You can save money while converting an ugly space into something truly beautiful.