If you are planning to refurbish your bathroom and want to know if shower panels are better than tiles, this feature will help you understand the pros and cons of both. The important thing to remember is that a totally waterproof wall covering is essential in showers and washrooms to protect porous surfaces. As well as being bad for your property, damp can have a serious impact on health - so choosing wisely is imperative.
Tiles and panels can both provide excellent waterproofing. However, they are different products with varying benefits. Your motivation for investing in one over the other can depend on anything from outlay and maintenance to the overall visual appeal. Anyone giving their shower a makeover will want to achieve the best possible finish, and this article will help you achieve that. For many people, the material they eventually plump for is based on not just price but ease of installation.
Ceramic tiles have been used for decorative purposes for more than 20,000 years. Common in Egypt, they took a very long time to make their way into British homes. In fact, they were quite rare until the early 20th century. On the other hand, shower panels are a much more recent trend. Considered the modern alternative to ceramics, they are used not just in homes but a wide range of commercial and publicly-owned settings.
The problem with tiles

Tiles provide robust protection for walls. If installed correctly, they will ensure surfaces in a shower are protected from water. They look good too. However, the initial finish may not last. Grouting can attract mildew and mould, and prove difficult to keep clean. In addition, the surface of a tile can dull over time and is susceptible to cracking on impact. It is worth bearing in mind that the average shower uses more than 17 gallons of water - that's a lot of wet stuff you definitely do not want soaking into your walls. The every-day person takes three showers a week. Times that by the number of people in your household and you will get a good idea of the amount of water potentially coming into contact with defects in tiles.
WetWall, a market leader in shower panels, says trouble with maintaining tiles is what is making more homeowners shop around for alternatives. A spokesman said: "Apart from losing their looks, tiles can be come loose over time. This problem can easily be missed until damage is done or the tiles start coming away from a wall. When installing tiles, you have to take into account things like contraction and expansion. You also need to double-check the bonding method or adhesive you have chosen is up to the job."
The spokesman points out that something as basic as choosing the wrong type of grouting can also impact the longevity of a tiling project. But the biggest mistake DIYers make is not priming a wall before applying tiles. This useful article from DoItYourself explains the top reasons why tiling projects go wrong. It is worth a read if you are considering switching to shower panels instead.
Benefits of shower panels over tiles
Apart from being up to twenty-five per cent cheaper than tiles, shower panels have a lot going for them. They take less time to install and are much easier to maintain. If you are looking for a hygienic solution for a shower, it is worth noting that panels do not require any grouting. Available in a massive array of finishes, including glass-like high gloss, they deliver seamless style to any wet area.
There is a misconception that panels are less waterproof than ceramics. This isn't true. In fact, they are completely waterproof. WetWall says: "Unlike tiles, this product stays looking fresh for longer. Grouting is notorious for losing its colour, making tiling projects quickly looking grubby or dated. Panels offer a simple, wipe clean solution that makes keeping a moisture intense environment hygienically clean very easy.
"Other benefits include thermal insulation properties and the fact that wall panels don't rot. Popular shower panels are manufactured from laminate, acrylic and composite materials - all known for their durability. The other benefit, which DIY enthusiasts in particular are switching onto, is the fact that walls require very little preparation before panels are bonded in place. They can also be installed over existing wall coveringss, which is a massive plus-point. Perhaps something a lot of people don't know about shower panels is that they are available in a tile effect finish - so if you are someone who likes a traditional finish, they are a really good option."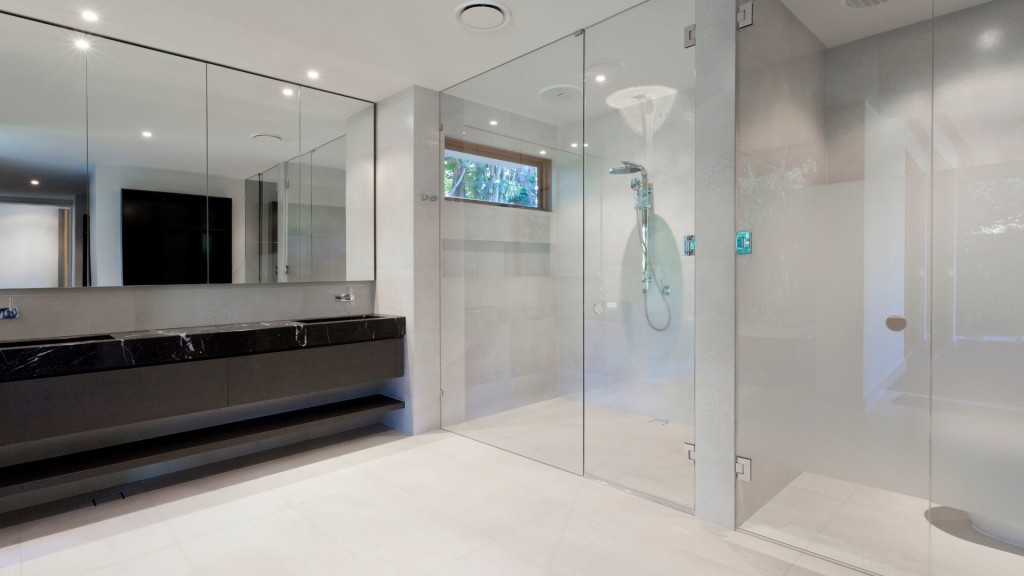 Shower panels or tiles?
Now that you know the benefits of shower panels when compared to the drawbacks of using tiles, discover the looks you can achieve for a fraction of the cost. WetWall stocks a literally huge range of choices - from authentic-looking natural stone finishes to full solid colours. They don't hold back when it comes to variety or style. Whether you want to create a shower with personality or achieve a really opulent finish, their range will amaze you.
Manufactured for long-lasting performance and outstanding aesthetics, these are shower panels designed to make a statement. The range includes collections inspired by nature, textures and cutting edge trends. The real beauty of WetWall is that it will deliver panels direct to your door. Its online shop is popular with homeowners and those too busy or unable to hunt around the shops for similar products. A trusted name in wet wall coverings, it specialises in easy-to-install solutions that will make your shower a standout feature of your home.
As well as providing a nationwide delivery service, the company supports its website visitors with free technical support. You will find this service useful if you are not sure which type of shower panel is best for your project or you want to double-check the number of panels you will need to complete a project.
Fed up with your existing shower? Want to give it a truly long-lasting facelift? Take a look what is in store at WetWall and create the shower of your dreams. This is a business that believes shower panels are better than tiles. Discover the benefits for yourself.